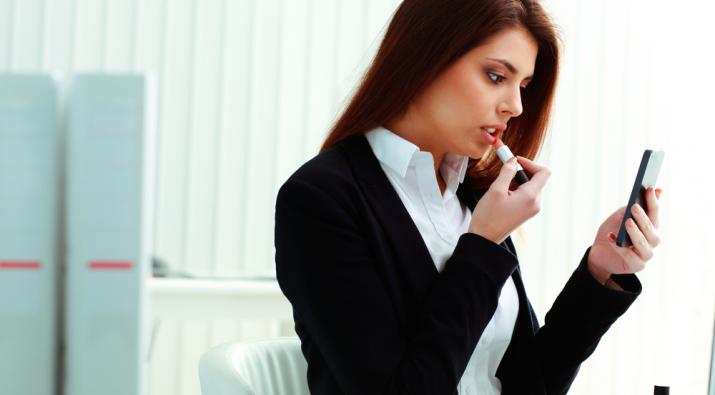 When you constantly juggle between your work, family, and other aspects of your life, it's not easy to pay attention to makeup and beauty. All women want to look great but working long hours and being always on the leave no time for standard beauty regime. After all, applying makeup requires precision, concentration, and enough time to choose what works best for you, or even outfit you want to wear to work. However, as makeup is important for every woman and makes you feel confident with five tricks from this article you can start your new beauty routine that will fit into your busy schedule.
The importance of makeup
Harvard and Procter & Gamble conducted a study in 2011, whose results showed that makeup affects how other people view a woman. That's what we all knew anyway. But another revelation was quite surprising. The results of the study also revealed that to other people it is not important what kind of make up some woman applies. Scientists presented participants of the study various photos that showed faces with different makeup styles (glamorous, natural, professional) and no makeup at all. All makeup styles received a better response than a barefaced look. However, makeup for the workplace does come with certain standards.
Moreover, makeup makes women feel more confident which positively affects their productivity at workplace.
To improve your confidence and finally be able to apply makeup before work quite fast, below are the makeup tricks that can help you.
Ensure long-lasting look with moisturizer
You have no time to check and reapply makeup all the time, and you can easily ensure long-lasting look with moisturizer. This is a win-win situation for you because you have to moisturize your face as well as your body (not with the same product though). Most women make a mistake by applying face cream when they are heading to work which is a mistake as it doesn't settle in, and makeup won't last very long. So you must know the healthy and refreshing skin care tips that would help you rejuvenate your skin.

You should moisturize your face immediately after washing it in the morning and before you have breakfast. It will have more time to be absorbed, and your face is ready for makeup that will last throughout the day.

The base for every makeup is the foundation. As using brush or sponge can be time-consuming it is perfectly safe and much faster to use your fingers. Dab it in and make sure you don't miss a spot. You don't need too much foundation as you're going to work so the small amount of the product will save more time as well.

TIP: use foundation that matches your skin tone rather than going for a darker look.

As you're not going to a club but to work you don't need a liquid eyeliner that is applied on the lash line of your eyelids. That requires precision and a lot of time. Instead, bring out your eyes in a simpler and faster way: apply eye pencil to your lower lash lines. Also, to finish your eye makeup as soon as possible, you should purchase mascara with a curvy brush to emphasize them in one or two moves.

Be careful with eye shadows
There are time and place for everything and wearing eye-popping eye shadows with bright colors is not suitable for the workplace. Instead, apply one coating of softer eyeshadow, similar to your skin tone. That way, you will be done fast and look professional and sophisticated.

The makeup look for working woman should be professional and natural-like as too much makeup isn't appropriate (unless you do work in a club). You can spice things up with a nice lipstick. After all, lipsticks are always considered as elegant and sophisticated. Opt for a lipstick in more natural tones. Purchase a long-lasting one so you don't have to reapply it during the day. Not a fan of lipsticks? Not to worry, applying lip gloss is even easier.

More tips
Don't wear smoky eye makeup at work

No sparkles or glitter

Red lipstick? It depends on the nature of your workplace. In some places, it is considered perfectly fine while for other ones it's inappropriate.

Always invest in long-lasting makeup products to avoid reapplying them during the day, which saves time.

Doing nice makeup does not require you to spend hours. You just need to know tricks to get gorgeous makeup in ten minutes. Always go easy with your makeup. Even the smallest amount of makeup is noticeable which means you don't have to apply a few coats of makeup products. Small amounts are equal to a fast process, and you're done in less than 5 minutes.

Conclusion
Makeup tricks for working women are all about smart applications and choosing long-lasting products. Makeup should be suitable for the workplace which means you only need smaller amounts.
Author Bio
Kathy Mitchell is an American content, writer. She belongs to a health and beauty expert family. Her writing, skills are descriptive and meaningful. She has been working with consumer health digest over five years. In her spare time, she loves to read health and lifestyle news. Her articles are both professional and creative. You can contact her on Facebook and Twitter